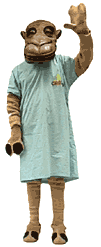 Would you like to....
spice up your antismoking event?
make a classroom activity memorable?
get the attention of local or national media?
A full-body costume of Joe Chemo is available for use by qualified groups and individuals. The costume was designed at no cost by Alinco Costumes, makers of athletic mascots for the Chicago Bulls, Utah Jazz, Philadelphi 76'ers, and others.
If you have QuickTime, you can see a 15-second video of the costume in action. In this clip Joe is wheeling himself down a hospital corridor, coughing and thinking about how R. J. Reynolds Tobacco Company helped destroy his life.


To book the costume for an antismoking event, please email tobacco@lungcolorado.org or contact ALAC at:
American Lung Association of Colorado
Tobacco Control Department
5600 Greenwood Plaza Blvd., Suite 100
Greenwood Village, CO 80111
Phone: (303) 388-4327
Fax: (303) 377-1102